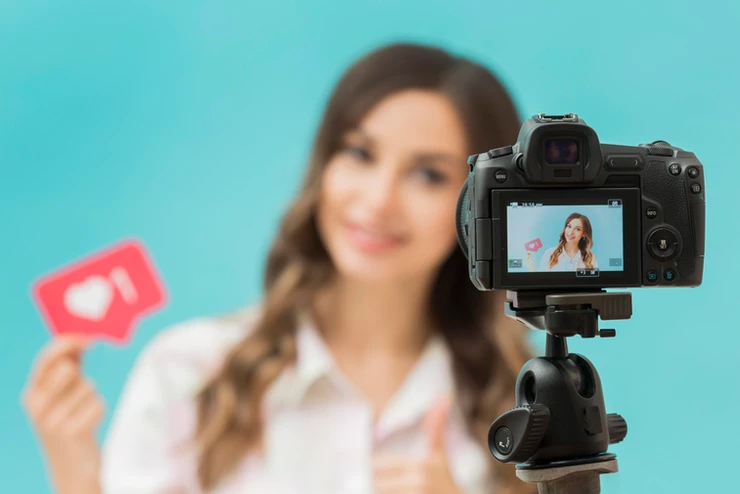 Video marketing – how to shoot to make people go wow?
According to forecasts, in 2022 video content will generate as much as... 82% of all online traffic. What does that mean? To put it simply, if you're not investing in video marketing, you're falling behind and missing out on the big opportunities that come with it. See how to tackle the challenge mindfully and ensure good results!
Given the percentage cited above, it's not surprising that video is becoming the apple of the eye for the biggest social media platforms. Of course, this is not about YouTube and Tik-Tok, which have been video-oriented from the word go. I'm talking primarily of the social media leader, i.e. Facebook, which is currently fine-tuning its algorithms to better handle video content. But also Instagram and Pinterest, which have been (or soon – who knows? – "used to be") strongly photo-oriented.
Of course, audio-visual content isn't just limited to social media. It's also video blogs, videocasts, webinars, video tutorials, of which there has been a crop on company websites. All this may be a clue suggesting that it's worth going in this direction and setting aside funds for video in next year's budget.
Video is now the king of content marketing
What specific qualities of video marketing make it so popular? The three most important of these are:
user-friendliness and faster consumability compared to written content (posts, reports, blog entries) or audio material (podcasts, e-books),
engagement of multiple senses, which makes content more evocative
variety of formats, which can be flexibly adapted to the nature of the channel, audience, or marketing objectives.
Of course, there are also some challenges connected with video production. These include higher production costs or more time consumed than with other formats. Having said that, it's a good investment. As long as you approach it mindfully. "What does that mean?" you may ask. Let me answer that.
Ask yourself why you want to shoot a video.
I'm sure you know how easy it is to be tempted to do something just "because others are doing it" or because it's "the thing". However, it's a good idea to slow down a bit and take a deep breath before you embark on specific video marketing activities. If you ask me, I recommend embracing the concept of the "Golden Circle" by Simon Sinek. According to its principles, the question "Why? should be asked and answered first of all. Then you move on to the following points, i.e. "How?" and "What?". This logical sequence applies to all marketing activities.
OK, so why does your company want to create and broadcast a video? Do you want to achieve your employer branding goals by showing your values and mission? Or do you want to promote or showcase your products or services? Or do you want to strengthen the emotional bond with the community around your brand? These are just a few of the many questions you may ask yourself about the rationale of the project.
Work with the brief and set the framework
You certainly won't personally tackle the whole executive side. Instead, you're highly likely to outsource most of the work to an interactive or marketing agency. You can certainly define the scope within which the service provider will operate. After all, it's you who knows your brand, product, or service best. By filling out the brief meticulously, clearly indicating marketing or image-related goals, motivations (the already mentioned "Why?"), budget (Hollywood blockbuster or perhaps an independent film?), you'll make the agency's work easier. This will positively translate into the speed and efficiency of the entire production.
Make suggestions but also allow the agency to act
If you have a vision in your mind about the planned material, share it with the production team – they'll be very keen to get familiar with it. I have repeatedly received benchmarks from clients concerning style (animation or realistic shots), preferred length, music, or voiceover (or lack thereof). Nevertheless, sometimes it's worth giving more freedom to the creative team and taking on more of a supervisory role. For instance, by accepting ideas and providing suggestions at later stages of the production process.
Go for professionalism in video production
Why adopt such a tactic? Because video production is a multi-step process where every element matters. That's roughly how it goes:
it starts with a creative concept, choice of format, and mood board development,
what follows is the script and storyboard stage, in which you receive a description of the main scenes along with relevant voiceover text or subtitles,
together with the storyboard, you'll be given a choice of several proposals for the soundtrack and/or sound effects, or suggestions for the set or actors.
With this, you'll get a rough idea of what the final material will look like. If you accept the aspects mentioned above, "hard" production will follow. The film crew or animators, all in white, will come in and do their thing. Of course, this is not the end of the story. Also, editing and post-production, which can work wonders, are important parts of the process.
It's one thing to make a video that's aligned with your goals without boring the viewer, but another key issue is its online distribution or promotion. But this one might be a topic for a sequel.
THE END.
Mateusz